Hi my name is Richard Seidel and I am the founder of Surf City Recovery. Three characteristics define us at Surf City Recovery: teamwork, dependability, and engagement. We provide our clients with proven recovery modalities and keep clients engaged every step of the way.
"If you or someone you know has been crushed by self imposed crisis or has annihilated everything worthwhile in life you, then you have come to the right place."
Laurie Kjelstrom | M.A. LMFT102432 
Clinical Program Director
As a Licensed MFT 
Lori SEIDEL | 

Executive Manager
Lori Seidel is the Executive Manager covering all of the administration and Human Resources duties at Surf City Recovery. Lori comes from a background of over 20 years' experience in Banking and Mortgage Lending Industry. She has exceptional organizational skill and thrives in an office environment. Lori has personal experience with her own recovery, and with her sober lifestyle is dedicated to helping others learn how to start a new life in recovery.
"I am blessed to be doing what I love along with working in the recovery field, I have found the perfect place at Surf City Recovery."
Miriam Paul | 

LMFT LIC# 15544
Have you ever said, "I don't know what to do anymore?" Does a part of you "know" there must be more to life than you are currently experiencing? Would you like to come to terms with the past, find your true identity and make more conscious and fulfilling choices? My job is to assist you in discovering your own "knowing" by providing a sacred space for you to move out from under the beliefs of your past and into the unlimited possibilities of the present.
Donald Owen | 

CAdc i-5543 Counselor
As a Counselor at Surf City Recovery Addiction Treatment Center in Huntington Beach Don has brought to the table his own extenuating recovery from addiction over 10 years ago. As CADC 1 at SCR Don has used his journey as a tool to help others struggling to overcome their addiction and to truly turn their lives around. "Don is currently a Case Manager and Group Facilitator here at the SCR family I find my work here at SCR to be the most rewarding experience and look forward to my future career in treatment.
alen arjad | Case Manager | B.A., radt-1
Alen Arjad is a counselor and case manager at Surf City Recovery in Huntington Beach. Through facilitating group and one-on-one sessions, Alen aims to aid individuals in exploring solutions within themselves and the recovery community. Alen has education in both counseling as well as the arts and uses this experience to share skills and new perspectives to overcome the obstacles that keep one bound in addiction. For Alen, his work at Surf City Recovery means much more than just a job but rather an opportunity to grow as an individual gaining experience in the field of mental health and learning to better help others throughout the process.
Ben Korman | 

RRW Support Staff
Working at Surf City Recovery has changed my life. Having worked the last 5 years in other fields of recovery, I feel this is where God has placed me.  The environment at Surf City Recovery Addiction Treatment Center in Huntington Beach affords me to be of maximum service to Him and to brothers and sisters on this journey….it CAN be a success!
Jazlynn Henderson | OPERATIONS MANAGER – RADT1
Jazlynn Henderson is Surf City Recovery's Operations Manager. She has been working in the field of behavioral health for over 4 years. She is a CARR Institute Graduate with a background in Case Management. Her daily office duties include Client Intake, Doctor liaison and Coordinating Physician care, taking weekly rosters, keeping track of medical records, handling daily appointments and facilitating groups. Through her education and personal experience she brings her strong skills to our staff in her passion to help others.

She is currently working towards her credentials as a CADAC/CASS.
PATRICK FERNANDEZ | catc i-1712204 counselor
Patrick is a Certified Addiction Treatment Counselor recognized by the State of California. Patrick began working in the field of addiction in 2012 and has been with Surf City Recovery Addiction Treatment Center in Huntington Beach since 2015. His passion for recovery began after getting sober himself in 2010 at which time he realized that he could use his real-life experience to benefit others who were suffering from the disease of addiction.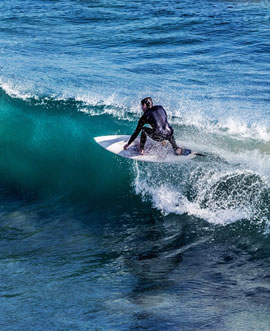 Name
Job Position